Cleanroom Design and Engineering Capabilities, Support, and Services
Engineering/ Drawings, Scope, Ancillary Support Systems, Consulting/Services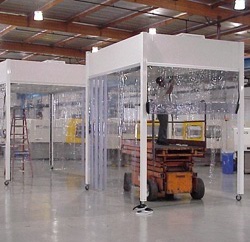 The Softwall Shop is recognized world wide for its broad range of technical expertise, mechanical design innovation and product quality. The Softwall Shop staff includes engineers, designers, project managers and field technicians as well as a complete manufacturing shop to serve our clients needs.
The primary focus of the Softwall Shop is to provide our clients with controlled environments that are high quality, reliable, easy to maintain and operate, perform to the agreed upon design parameters at a reasonable price. The following is an overview of the product and services offered by the Softwall Shop:
General Product Offering:
Softwall cleanroom enclosures
Modular cleanroom environments
Mobile cleanroom environments
Mobile laboratory environments
Conventionally constructed cleanrooms
Conventionally constructed laboratories
Vertical laminar flow stations
Horizontal laminar flow stations
Wet process benches
Air showers
Pass thrus
Modular wall systems
Cleanroom benches, tables and chairs
Design/Engineering Offering:
Standard products
Custom designs
Electrical
HVAC mechanical
Process mechanical
Process piping
Exhaust systems
Process controls
Process/environmental monitoring
Field Services:
Permitting
Installation
Field Services Cont'd:
Construction
Startup, test and balance
Certification and commissioning

Class 10 thru Class 100K (Fed Std 209E)
ISO 14644-1 levels 4 thru 9
BS 5295 cleanroom standards
USP 797

Operator training
Engineering/Drawings:
Electrical
Structural
HVAC Mechanical
Controls/Monitoring Systems
Scope (Class 1 - Class 100,000 Certified)
Softwall Enclosures
Modular Construction
Mini Environments
Ancillary Support Systems (provide and install):
Utilities (gases, electricity, vacuum drains)
Consulting/Services:
HVAC Installation
Start-Up, Test and Balancing
Certification & Final Acceptance
Operator Training
The Softwall Shop also offers design only packages and routinely cooperates with 3rd-party architects, engineers and general contractors.
In conclusion, The Softwall Shop is well structured and experienced in the United States and International technical fields to successfully execute a variety of cleanroom manufacturing facilities and high technology application projects.