Softwall | Modular | Portable Cleanrooms
The Softwall Shop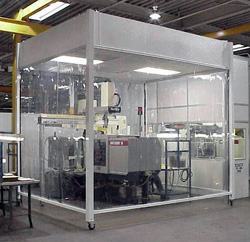 The Softwall Shop is a California-based manufacturer and licensed contractor and installer of cleanrooms and controlled environment rooms. Established in 1989, the Softwall Shop was formed to provide these CERs for a broad range of industries. Users of these CERs include the pharmaceutical, medical device, plastic film, electronics, printed circuit board, disk drive repair, aerospace, food processing, satellite assembly and other industries when ever a clean environment is required for manufacturing, assembly, inspection and storage. These prefabricated rooms go by a variety of names including softwall cleanrooms, soft wall cleanrooms, portable cleanrooms, modular cleanrooms, clean isolators and portable softwall cleanrooms and are designed and manufactured to provide a clean environment meeting Federal Standard 209E and ISO standards.
The Softwall Shop's engineers and technical staff have developed other products and add on components to enhance our customer's controlled environment specifications including temperature and humidity control, static control, UV filtering and other process parameters.
The Softwall Shop's field installation crews will travel nationally and internationally to install our components and products should the customer require these services. Our engineering department can design and engineer a variety of systems including electrical, HVAC, process controls, process piping and exhaust systems that our crews can install on a turn-key basis.
The Softwall Shop routinely cooperates with architects, engineers and general contractors should our client already have these disciplines under contract.
In addition to providing a standard or custom softwall cleanroom, the Softwall Shop can provide a conventionally constructed modular cleanroom using a modular walls system. Other product areas include mobile self contained cleanrooms or laboratories constructed in a container or within a trailer on wheels that can be relocated quickly and easily.
The Softwall Shop is recognized world wide as a leader in controlled environments and the place to go for your demanding requirements whether it is for a standard off the shelf or a custom designed product.